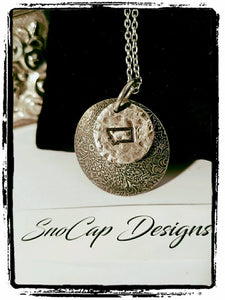 Reclaiming Jewelry in Montana - Spoon Jewelry - Coin Jewelry - Copper
From 2017 we started this journey with spoons. We made the spoon jewelry we have today. We started with a spoon and cut it into two pieces. We used the spoon head for a necklace and the spoon handle for the bracelet. 
It didn't take us long to start using coins in our designs. We heat or hand stamp each one so it will give the item a unique one of a kind look to it. I don't think i could make the same one if I tried lol. 
Throughout time we have started using bullet shells, copper wire, antique glass beads and much more. 
We do have a new style coming out in 2019, I am so excited to share that with you guys. It is made out of your everyday items.... I'm thinking of hard drives, I am still trying to get my design down. It will be released in 2019! Stay tuned
I am thinking about doing a steampunk collection too. I am drawn to that style. There is just something so unique about it. Collecting gears are harder then you would think. lol 
Here's to an amazing 2019 and many more new things to come!
Reclaimed in Montana
Danielle Munyan
SnoCap Designs
---